"

Great family activity!
The staff is always friendly and helpful. We've only ever painted ceramics or canvases but there is also options with glass. Because you pay a low studio fee for the week, it makes sense to at least go there twice during our stay. They will even ship your final artwork to you.
-Rebecca E, Dallas TX, Visited March 2017
"

A must stop family bonding experience! So much fun!
I took my 2 teenage (15 & 17 year old) daughters. We had been to the same one (different painting) given in Keystone 2 years ago. If you need a rest from skiing and some family bonding with a lot of interaction, this is for you. We laughed and laughed and had the best time at the canvas painting class. The instructors were so helpful and friendly. I loved this class! I wish we would have had time to come in for the ceramics!!
-Kimberlyi_1972, Heber Springs, AK,  Visited Jan 2017
"Fun for the family"
Needing something for the young one to do that didn't involve skiing so we went here. My son is almost three and didn't know how this would go. Wife and son painted multiple little projects and both had fun doing so. I would recommend this activity to anyone that wants to do a little something different. Pricing was reasonable and plenty of things to do.
-Justin A, Lubbock TX, Visited Nov 2016
"Very fun!"
We did an open canvas night and the staff and ambiance was perfect from the minute we walked in. Everyone is there to help you relax and have fun painting, and as it was our first time, we were a bit nervous for our artwork, but everyone there helped spark your creativity and help you enjoy your time there!
-517shadin, Visited July 2016

Lousie M, Tarrytown, NY  7/10/2016
For the last few years we have had our annual vacation in Breckenridge.  One of the highlights is Ready Paint Fire.  This year I made seven pieces.  I tried canvas painting, ceramics and my favorite fused glass.  They also mail so you don't have to worry about lugging all your precious art home.
Everyone has such a good time!  Even in lovely Colorado it rains so if you are a hiker like I am—look into expressing creativity here as an alternative.
Tonya K, Peublo CO, 7/27/2016
We visit this place every year on our getaway to Breck. The staff is so friendly & helpful with the right amount of encouragement. We have a blast every time we walk thru their doors! I highly recommend!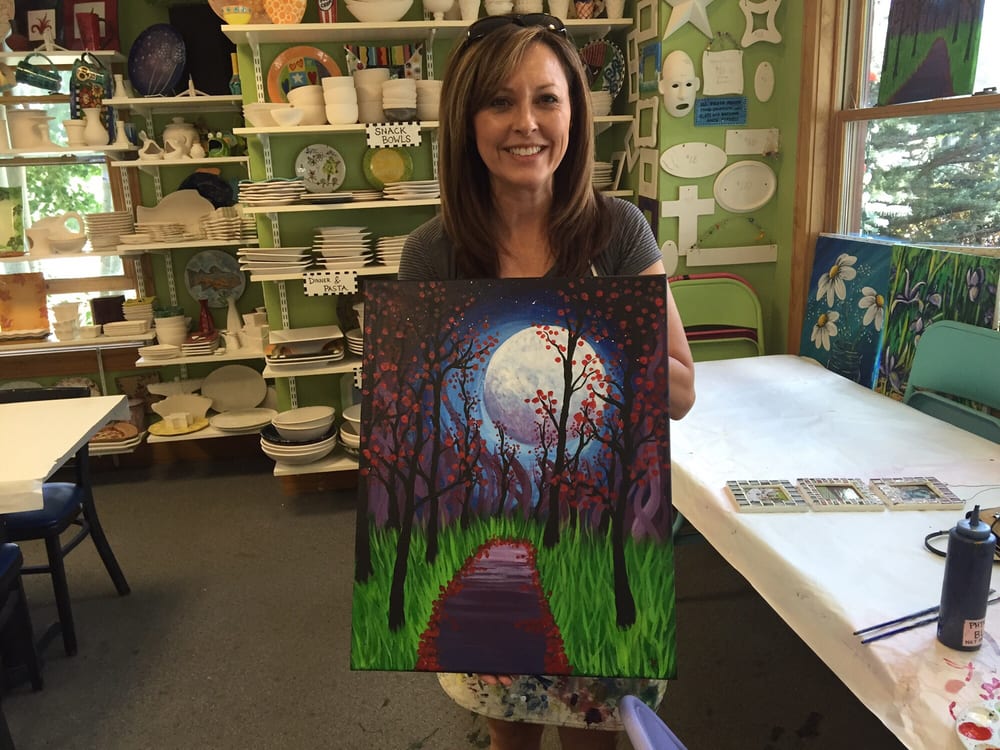 Loved this place.  Owner is amazing and very sweet!  Spent two days there with my kids and it was such a special time.  I asked them to draw this numerous times but they said no and made me do it myself.  My daughter and I actually did this from scratch and we were pretty proud of it. Wouldn't have felt as excited if they would have given in.  All in all we did 4 canvas paintings and 7 pieces of pottery.  It was worth every cent!  Will definitely be back next year!  Thank you Ready Paint Fire!